The Comprehensive Financial Planning System
3706 SW Topeka Blvd
Suite 400
Topeka, Kansas 66609
Toll Free 800-550-CFPS
PH 785-266-8333
Fax 785-266-7819
Email rmiller@t-mfinancial.com
The Comprehensive Financial Planning System is a trademark owned by T & M Financial, Inc. CFPS is an abbreviation of this mark. Our system is not connected with, endorsed, or approved by the Certified Financial Planner Board of Standards, Inc.
We Have Never Seen Any Company Offer So Much For So Little!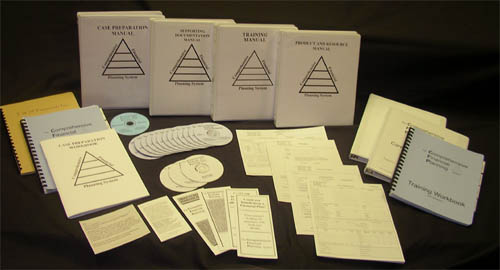 Introducing a complete system designed to help insurance and investment sales people become true financial planners!

Why use The Comprehensive Financial Planning System™?
Developed by a 28 year MDRT member and Top-Of-The-Table qualifier, this detailed system produces a comprehensive financial plan which shows clients why and how to purchase suitable amounts of insurance and investment products. The CFPS is designed to help you achieve:
Improved Closing Rates - Up to 80% of all financial plans presented may create clients for life!



Increased Referral Business - The CFPS referral system can create high quality referrals, some of whom may call you to set an appointment before you have time to call them!



Higher Average Size Case - Over $2,000 average commission per case can be received from plans presented to middle income clients with no money to invest!



In-Office Appointments - 100% of all CFPS appointments should be conducted in your office, not in the client's home!
A Financial Plan that Truly is a Financial Plan - CFPS plans are computer supported, not computer generated. All plans are individually tailored. Unlike computer-generated plans, The CFPS plan document can be easily understood by the client (and the planner)!



Access to a Much Larger Potential Market - The CFPS works just as well for middle-income clients with no money to invest as it does for affluent clients! In our experience, the middle-income market is virtually untapped because too many financial planners are chasing a limited number of wealthy prospects.



Ideas that Create Potential for More Monthly Investing Surplus -The CFPS contains numerous strategies to create monthly cash flow that can help fund insurance and investment products when suitable for your client! Asset allocation recommendations are also included when appropriate, but are not required to produce a comprehensive plan!



The Client Chooses the Compensation Method - Because of the CFPS Compensation for Services Agreement, clients can view CFPS planners as objective financial advisors, even though they may purchase substantial insurance and investment products from the planner.



Professional, Low Pressure Methods - The CFPS includes effective scripts & tracks for setting appointments, obtaining referrals, and closing cases. (They really work and you won't feel stupid saying them!)
What Is The Cost to Use The Comprehensive Financial Planning System™?
No initial investment is required to receive all CFPS manuals, forms, brochures, and software. Optional CFPS training videos are available for an additional charge.




Non-Affiliated Representatives: $950 per month, with a minimum license agreement term of 12 months. Ongoing supply costs will vary.


Associated Planners: Monthly license fees are waived for independent planners who submit adequate insurance and investment business through approved companies which lists us as their BGA.

30 day free trial. If you are not satisfied with the system, you may return it within 30 days of receipt without further financial obligation.